Hello sunshine, tadi blogwalking kejap and terjumpa pulak satu contest yang sangat senang syarat-syaratnya.
Jadi, saya pikir nak masuk lah.
HAHA, walauoun blog bukan colourful, PINK je, but saje je nak try.
Tuah ayam nampak di kaki, tuah manusia sape yang tahu an?
Okay, ini banner contest.
Kalau ada sape sape nak join, klik banner tu tau!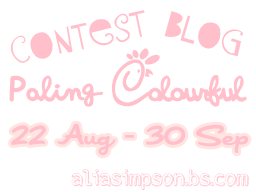 Nak tahu syarat-syarat ke? Okay, memandangkan saya tengah ada mood, saya tulis syarat-syarat dia.
Follow blog ini http://aliasimpson.blogspot.com/
Like the blog page. klik HERE
Must have a blog.
Must a malaysian.
Make an entri dengan tajuk 'Contest Blog Paling Colourful'. Letak banner di atas tu.
Tag 1 kawan yang korang kenal.
HAHA, senangkann? Hadiah dia lumayan tauu,
Kalau nak tahu, joinlah contest ni :P
Jadi, saya nak tag kepadaa:
Okay, itu aje. Bye!